Founder, Executive Director, adoptive mother, has been working with children and families for over 35 years. After 5 years of failed infertility treatments she and her husband decided to adopt internationally.

Member of Chi Sigma Iota a national Professional honor society which recognizes scholastic and professional excellence in her field. She has spoken at the local chapter at Xavier University.

Member American Counseling Association

Member Ohio Youth and Child Caring Agencies

Assisted presentor at Ohio Counselor Association annual meeting breakout workshop November 2007

Acknowledged in the Journal of Fertility and Sterility: Favorable Pregnancy, Delivery, and Implantation Rates Experienced in Embryo Donation Programs in the United States

Worked with Children for over 35 years and adoptive parents for over 25 years.

Listed on Adoption.com, WCKY Channel 3, SkyAngel show Facing Life Head On the Early Adoption segment, New York DailyNews: A Charitable Conception, Charisma Magazine, Featured on Blog; Wishing For a Baby: Asian Blog, Embryos Alive Gives Hope, PR Business News PR Newswire US Newswire, Smartmoney.com, KOTA Territory, Queen City Forum magazine, Dayton Business Journal, Yahoo News, Where's the Fab Four -- Mitt, Fred, John and Rudy?, Find Law Legal News and Commentary, Earth Times.org, The Hill For and About Congress, Cincinnati Adoption Agency Invited to Participate in Values Voter Presidential Debate,Surrogacy Lawyer and ProLife Blogs.org: article-Embryo Adoption- A Donor Story, Sycamore Living, Channel 5 News WLWT and MSNBC.com, Author Once Upon A Time childrens book for embryo adopted children

Developed curriculum for the Assessor/Counselor component of the NEDA National Embryo Donation Academy Reference Manual,
Faculty for the NEDA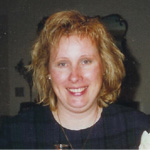 Bonnie J. Bernard
M.Ed.