Adoption Related Books
Children's Books Embryo Donation and Adoption
Egg Donation and Surrogacy Books
Adoption Related Books
---









---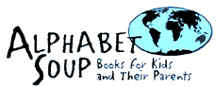 Most of these books and many ethnic, parenting and adoption books can be purchased through Alphabet Soup. Adoptive Mom, Susan Sternberg is proprietor and will certainly answer your calls and ship your favorite books to you. . Click on the Alphabet Soup logo above to visit her website or e-mail Susan Sternberg at alphabooks@msn.com.



---
Your safe guide to Internet adoption
www.adoptingonline.com

@$29.95
Adoptive Families of America-
http://www.adoptivefam.org/ Chosen Child International Adoption






Sign in to turn on 1-Click ordering.

| | |
| --- | --- |
| Have one to sell? | |

Don't have one?
We'll set one up for you.

Raising Adopted Children, Revised Edition : Practical Reassuring Advice for Every Adoptive Parent
by Lois Ruskai Melina



List Price:

$13.95

Price:
$11.16 & eligible for FREE Super Saver Shipping on orders over $25. See details.
You Save:

$2.79

(20%)

Availability: Usually ships within 24 hours

Want it delivered tomorrow, June 23? Order it in the next 2 hours and 24 minutes, and choose One-Day Shipping at checkout. See details.

39 used & new from $5.97

Edition: Paperback




---
---
---
---
---

Perspectives Press-(adoption and infertility)
http://www.perspectivespress.com/newsletter.html Roots and Wings-
http://www.adopt-usa.com/rootsandwings/
---
BOOKS
The 125 MOST ASKED QUESTIONS ABOUT ADOPTION (And the Answers)
by Paul Baldwin
Paperback
A primer that addresses all the legal--and emotional--aspects of adopting a child. In a direct Q&A style, Baldwin presents this extremely complicated subject in a fresh and accessible way. Covers all the legal and technical matters, complicated issues surrounding the search for a biological parent, and more.

---

ADOPT THE BABY YOU WANT
by Michael Sullivan, Susan Shultz
Availability: This item is out of print, but if you place an order we may be able to find you a used copy within 2-6 months.(Hardcover, 1990)

ADOPTING IN AMERICA: How to Adopt Within One Year 1996-1997
by Randall B. Hicks, Esq.

Written by an adoption attorney and host of the PBS series Adoption Forum, ADOPTING IN AMERICA. this book has a summary of adoption law, by state, including procedures, requirements, paperwork, licensed agencies, waiting periods, etc.
ADOPTION: A Legal Guide for Birth and Adoptive Parents
by Kelly Allen Sifferman
Contains basic information on adoption law one needs before adopting a child or making an adoption plan for your child.(Paper, 117 pgs, 1994)
---
THE ADOPTION RESOURCE BOOK

by Lois Gilman
A consistent adoption bestseller since the publication of the first edition, The Adoption Resource Book contains all the information a couple or individual needs to investigate adoption alternatives and arrange for and complete a successful adoption. An essential guide for anyone considering adoption. (Paper, 421 pgs, 1992)
---
BEATING THE ADOPTION GAME
by Cynthia D. Martin, Ph.D.
Explains how to go about adopting a child and explains the different options for adoption. Provides many tips to prospective adoptive parents regarding agency adoptions and how to facilitate adoption in the most effective way. (Paper, 362 pgs, 1988)
(Paper, 362 pgs, 1988)
---
THE ESSENTIAL ADOPTION HANDBOOK
by Colleen Alexander-Roberts
Table of Contents

                    1. A Look at Adoption Today 
                    2. Adoptive Parent Support Groups 
                    3. Gathering Information to Adopt through an Agency 
                    4. Understanding Agency Information and Requirements 
                    5. Pursuing Agency Adoption 
                    6. The Home Study Process 
                    7. Intercountry Adoption 
                    8. Single Parent Adoption 
                    9. Independent Adoption 
                    10. Surviving the Wait 
                    Afterword 
                    Bibliography 
                    Appendices 
                         Adoption Attorneys 
                         Adoption Book Publishers and Distributors 
                         Adoptive Parent Support Organizations 
                         General Adoption Resources 
                         Private Adoption Agencies 
                         Public Agencies
(Paper, 256 pgs, 1993)
---
HOW TO ADOPT A CHILD: A Comprehensive Guide for Prospective Parents
by Connie Crain and Janice Duffy
Do you find yourself with more questions than answers regarding adoption procedures? Are you overwhelmed by adoption laws and less-than-hopeful statistics? Using an easy to understand question and answer format,... provides the information that you need. Comprehensive and well-researched, this book is an invaluable resource for prospective adoptive parents. (Paper, 290 pgs, 1994)
---
How to Adopt a Child Without a Lawyer for Less Than 50 Dollars
by Benji O. Anosike
Paperback
---
HOW TO ADOPT IN CALIFORNIA IN ONE YEAR
by Randall B. Hicks, Esq.
Step-by-step guide to the entire adoption process in California. This book contains the laws for California adoptions, including procedures, requirements, necessary paperwork, licensed agencies, waiting periods, etc.
---
Launching a Baby's Adoption
by Patricia Irwin Johnson
Hardcover, 256 pages
Launching A Baby's Adoption incorporates anecdotal material solicited from adoptive parents and professionals throughout North America. Launching a Baby's Adoption fills the need of single and coupled parents seeking to adopt for information that can assist them in practical ways to bring a baby into their families and into their lives. Launching A Baby's Adoption is a valuable addition to the parenting collections of community libraries and is "must" reading for anyone seeking adoption as a means to enhancing their family life.
---
LOVING JOURNEYS: Guide to Adoption
by Elaine L. Walker
A directory of agencies, attorneys, domestic and international adoption programs, and support groups. (Paper, 394 pgs, 1992)
---
THERE ARE BABIES TO ADOPT : A Resource Guide for Prospective Parents
by Christine Adamec
For the millions of couples who are unable to conceive a child but are unwilling
to give up their dreams of parenthood, Adamec has written an indispensable,
thoroughly researched guidebook that takes readers step-by-step through the
adoption process and provides all the information needed to make empowered
choices about lawyers, agencies, and more.

The author, Adamec@aol.com, 06/08/96:
The information and tips in Babies is practical and works.
There ARE Babies to Adopt is a how-to book for people eager to become
adoptive parents. Includes information on how the system works and practical
advice for prospective parents. Adoptive parents have stated that this is the
book that enabled them to succeed! Information on agencies, attorneys, and
adoption in the U.S. and overseas. Also, birthmothers likely/NOT likely to
change their minds about adoption; affording adoption and much more. No one
can guarantee that you will adopt a child after reading this book--but many
people have. There ARE Babies to Adopt gives you what you need to create
your own game plan to success.
Paperback
---
TO LOVE A CHILD: A Complete Guide to Adoption, Foster Parenting, and Other Ways to Share Your Life With Children
by Marianne Takas, Edward Warner
This book examines the full range of alternatives to biological parenting available for those adults who want to share their lives with children. In addition to explaining various types of adoption, it also covers less familiar choices such as foster parenting, child and family mentoring, and kinship care... provides information on applications, resources, and costs to help you begin a life rich with children. (Paper, 225 pgs, 1992)
---
OUR CHILD: Preparation for Parenting in Adoption
by Carol A. Hallenbeck, B.S., R.N.
This is the instructor's manual of a four week course for expectant adoptive parents. It covers baby care (including the possibility of adoptive nursing), finding a doctor, dealing with family and friends, preparing siblings and many other topics of interest to new adoptive parents. Since, as pre-adoptive parents, you often don't know exactly when your child will join your family, it helps to have this book available just in case. (Paper, 232 pgs, 1988)
---
GENERAL ADOPTION BOOKS FOR EVERYONE
---
THE ADOPTION LIFE CYCLE: The Children and Their Families Through the Years
by Elinor B. Rosenberg, M.D.
Synopsis:

Examines the effects of adoption on adoptees, adoptive parents, and birth parents at every stage of life and concludes that adoption is still a worthy solution to a significant social problem.
Table of Contents
1. The Myth of the Perfect Solution
2. To Have but Not to Hold: Developmental Tasks of Birth Parents
3. Becoming Parents: Developmental Tasks of Adoptive Mothers and Fathers
4. Growing Up Adopted: Developmental Tasks of Adoptees
5. Shared Lives: The Interrelationship of Developmental Tasks of Birth Parents, Adoptive Parents, and Adoptees
6. When Help Is Needed: Implications for Clinical Interventions
7. Surrounding the Adoption Circle: Implications for Social and Legal Practice
Appendix A. Developmental Tasks of Birth Parents
Appendix B. Developmental Tasks of Adoptive Parents
Appendix C. Developmental Tasks of Adoptees
(Well balanced professionally written book on adoption issues
This well-balanced book will appeal to a wide range of readers. It provides a well integrated presentation of significant issues of adoption. It discusses developmental tasks of birth parents, adoptive parents and adoptees with commentary on their overlapping issues and intrrelationships. A section on clinical interventions is technical in approach and incorporates developmental stages. The book closes with discussion of legal and social implications.I have spent days searching libraries and data bases for solid information on adoption and life stages. This book is a direct hit for all members of the adoption triad as well as those in the helping professions. )
---


by David M. Brodzinsky, Marshall D. Schechter (Editor), David M. Brodxinsky
Synopsis: In this volume David Brodzinsky and Marshall Schechter have brought together a group of leading researchers from various disciplines to explore the complex interdisciplinary subject of adoption. While recent work has shown that adopted children are more vulnerable to psychological and school-related problems compared to their nonadopted peers, and that the rate of referral of adopted children to mental-health facilities is far above the general population, our understanding of the basis for these problems remains unclear. This book explores new insights into the problems of adopted kids.
---
Joanna Campbell / Paperback / Published 1997

Joanna Cole, Maxie Chambliss (Illustrator) / Library Binding / Published 1995

Eileen M. Wirth, Joan Worden / Paperback / Published 1993

Jean Nelson-Erichsen, Heino Erichsen / Paperback / Published 1997

Frank Zagone, Mary Randolph / Paperback / Published 1994

Martha Cheney / Paperback / Published 1996

C. B. Christiansen / School & Library Binding / Published 1995

C. B. Christiansen / Paperback / Published 1996

Shirley C. Samuels / Hardcover / Published 1990


Marie G. Lee / Paperback / Published 1995


Ivor Gaber, Jane Aldridge (Editor) / Hardcover / Published 1995


Guy Demaupassant / Library Binding / Published 1995

Jean Knoll, Mary-Kate Murphy / Paperback / Published 1994

Myra Alperson / Paperback / Published 1997

Myra Alperson / Hardcover / Published 1997

Kathy Lancaster / Paperback / Published 1994

Kathy Lancaster / Paperback / Published 1996

Jonathan London, Cynthia Jabar (Illustrator) / School & Library Binding / Published 1993

Jonathan London, Cynthia Jabar (Illustrator) / Paperback / Published 1997

Patricia Irwin Johnston / Hardcover / Published 1997

Colleen Alexander-Roberts / Paperback / Published 1996

Shirlee Evans / Paperback / Published 1990

Ann Kimble Loux / Hardcover / Published 1997

Seth J. Margolis / Hardcover / Published 1993

Betty Jean Lifton / Paperback / Published 1988

Lois Ruskai Melina / Paperback / Published 1989

Tim Green / Hardcover / Published 1997

George Ancona / School & Library Binding / Published 1992

Walter Dean Myers, Rodney Pate (Illustrator) / Paperback / Published 1991

Mediating Permanency Outcomes : Parent Empowerment Workbooks: A Child's Needs, Looking at Options, a Coope Rative Adoption, Letting Go
Jeanne Etter / Paperback / Published 1997

Walter Dean Myers / Paperback / Published 1994

Keiko Kasza / School & Library Binding / Published 1992

Keiko Kasza (Illustrator) / Paperback / Published 1996

Anne Braff Brodzinsky, Diana L. Stanley (Illustrator) / Hardcover / Published 1996

Emily Arnold McCully / Hardcover / Published 1994


Shirley Brinkerhoff / Paperback / Published 1996


Ann Carney / Paperback / Published 1976


Steven F. Dansky / Paperback / Published 1997


Judi Culbertson / Hardcover / Published 1996


Lois, Wickstrom / Hardcover / Published 1991


The Open Adoption Experience : A Complete Guide for Adoptive and Birth Families--From Making the Decision Through the Child's Growing Years
Lois Ruskai Melina, Sharon Kaplan Roszia / Paperback / Published 1993


Marilyn Irvin Holt / Paperback / Published 1994

Marilyn Irvin Holt / Hardcover / Published 1992

Michael D. Patrick, Evelyn Goodrich Trickel / Paperback / Published 1997

Carol Schaefer / Paperback / Published 1992

Janice Koch / Hardcover / Published 1985

Nancy D'Antonio / School & Library Binding / Published 1997

Sarah Ellis / School & Library Binding / Published 1995

Sarah Ellis / Paperback / Published 1996

Karen Katz / School & Library Binding / Published 1997

Pat Mora, Cecily Lang (Illustrator) / School & Library Binding / Published 1994

Jeanne Warren Lindsay / Paperback / Published 1989


Donna Scott Norling, Priscilla Ferguson Clement / Hardcover / Published 1996

Edmund Blair Bolles / Paperback / Published 1993

Patricia Irwin Johnston (Editor) / Hardcover / Published 1983

Lois Szymanski, Doron Ben-Ami (Illustrator) / Paperback / Published 1996

Jeanne Warren Lindsay, Jami Moffett (Illustrator) / Paperback / Published 1996


Project Breed (Breed Rescue Efforts and Education Directory Vol 1, No. 1: Project Breed Directory a Nationwide Source Book for Rescue and Adoption) Vol 1
Shirley Weber / Paperback / Published 1989

David M. Brodzinsky, et al / Paperback / Published 1993

Ingrid Tomey / School & Library Binding / Published 1996

Susan Wright, Bo-Kim Louie (Illustrator) / Paperback / Published 1995

Jerome Smith / Paperback / Published 1997

Paul Bergman, Michael Asimow / Paperback / Published 1996

Lea Marenn, M.J. Marenn / Hardcover / Published 1993


Liz Palika / Paperback / Published 1997


Myrna L. Papurt / Paperback / Published 1997

Patricia E. Roles / Paperback / Published 1990

Betty Ren Wright / School & Library Binding / Published 1991

Cheryl Lanham / Mass Market Paperback / Published 1997

Marilyn Kaye / Paperback / Published 1994

Ann Turner / Hardcover / Published 1990

Ann Turner, James Graham Hale (Illustrator) / Library Binding / Published 1990

Ann Turner / Audio Cassette / Published 1995

Ann Turner, James Graham Hale (Illustrator) / Paperback / Published 1992

Linda Shands / Paperback / Published 1995

Eileen Goudge / Hardcover / Published 1996


Constance Pohl / School & Library Binding / Published 1992

Theodore Taylor / Paperback / Published 1996

Eleanora Patterson / Paperback / Published 1988

Pat Derby / Paperback / Published 1989

Margaret Moorman / Hardcover / Published 1996

Linda Walvoord Girard, Linda Shute (Illustrator) / School & Library Binding / Published 1989


Linda Shute (Illustrator), Linda Walvoord Girard / Paperback / Published 1992
Marilyn Sachs / Paperback / Published 1994

Karen Gravelle, Susan Fischer / Paperback / Published 1995

Susan L. Gabel / Hardcover / Published 1989

R. J. Hamilton / Paperback / Published 1995

Jayne E. Schooler / Paperback / Published 1993

Carole Livingston / Paperback / Published 1986

Carole Livingston, Arthur Robins (Illustrator) / Paperback / Published 1997


Jane T. Schnitter / Hardcover / Published 1991

Sue Wells / Paperback / Published 1994

A Word Fitly Spoken: Context, Transmission, and Adoption of the Parables of Jesus (Suny Series in Religious Studies)
Philip L. Culbertson, Phillip L. Culbertson / Paperback / Published 1995

Maggie Francis Conroy / Hardcover / Published 1997
Susan Richards Shreve, Gregg Thorkelson (Illustrator) / Hardcover / Published 1995


Paul Baldwin / Hardcover / Published 1993

Library Binding / Published 1973

Adoptable Copyright Policy: Copyright Policy and Manuals Designed for Adoption by Schools, Colleges & Universities (Copyright Information Bulletin S)
Charles W., Dr. Vlcek / Hardcover / Published 1992

Jean Paton / Paperback / Published 1954

Christa Hoffmann-Riem / Hardcover / Published 1990

Lois Raynor / Paperback / Published 1980

Sara Bonnett Stein / Hardcover / Published 1979

Katrina. Maxtone-Graham / Hardcover / Published 1983

Patricia Irwin Johnston / Hardcover / Published 1992
Jorie Kincaid / Hardcover / Published 1997
Library Binding / Published 1990

Gerri Glotzbach / Library Binding / Published 1990

Suzanne Arms / Paperback / Published 1989

Velma Banks / Hardcover / Published 1984

Adoption: An Annotated Bibliography and Guide (Garland Reference Library of Social Science, Vol 374)
Lois Ruskai Melina / Hardcover / Published 1987

Fred Rogers / Paperback / Published 1995

Laurie and William Wishard / Hardcover / Published 1980

Judy Austin / Paperback / Published 1986

John Triseliotis, et al / Paperback / Published 1997

John Triseliotis, et al / Hardcover / Published 1997

Adoption Builds Families Unit II: Decisions About Self and Family/Cassette, Film Strip and 6 Books Boxed
Hardcover / Published 1980

Karen Liptak, Gilda Verger / Hardcover / Published 1993

Ellen Paul (Editor) / Hardcover / Published 1995

Hardcover / Published 1995

Paperback / Published 1995

Hal Aigner / Paperback / Published 1992

Adoption Literature for Children and Young Adults: An Annotated Bibliography (Bibliographies and Indexes in Sociology, 21)
Susan G. Miles / Hardcover / Published 1991
Angela Hunt / Paperback / Published 1989

Kalynn George / Hardcover / Published 1990

Paperback / Published 1992

Lois Gilman / Paperback / Published 1998

Paperback / Published 1990

Pamela V. Grabe, Paul D. Reitnauer / Paperback / Published 1990

Paperback / Published 1990

The Adoption Triangle: Sealed or Opened Records: How They Affect Adoptees, Birth Parents, and Adoptive Parents
Arthur D. Soroosky / Paperback / Published 1989

James L. Gritter (Editor) / Paperback / Published 1989



Excerpt from Georgia Reproductive Specialists website on Books- April 10, 2009